The writing of the album The Promise 
by Caitlin Grey (Additional notes by Neil Harvey) 
So, here we are at the first song in my new series...The making or should that be the writing of  The Promise. Before we begin with the first song, I wanted to preface the series by saying this. Sometimes, it's very difficult to de-construct and demystify the writing of a song. Apart from the fact that it's all too easy, once it's written, to forget quite how it came about in the first place! However, the main worry in publishing details is that in doing so, some of the mystery will be lost and the listener's own interpretation of the song, of equal importance in the communication process, will be somehow compromised. That said, I, myself, love to read about how favourite songs of mine came about. For example, we know that Abba's 'The Winner Takes It All' is to some extent about the painful divorce of Agnetha and Björn. Knowing this only makes it all the more poignant when watching her sing the song. You almost feel her pain. For me anyway, it certainly doesn't detract from my own enjoyment of the song, rather it enhances it.   
So with this in mind, I hope you will enjoy delving a little deeper into the writing process and discovering little nuggets of information about the making of The Promise. There are a couple of intertwined themes running through this album. I will reveal them later in the series and it may become clearer to you anyway, as you read more about the songs. 
Any songs, films or books I mention will be listed for reference at the bottom, just in case you'd like to look. 
                                                                   So here we go with the first song on the album......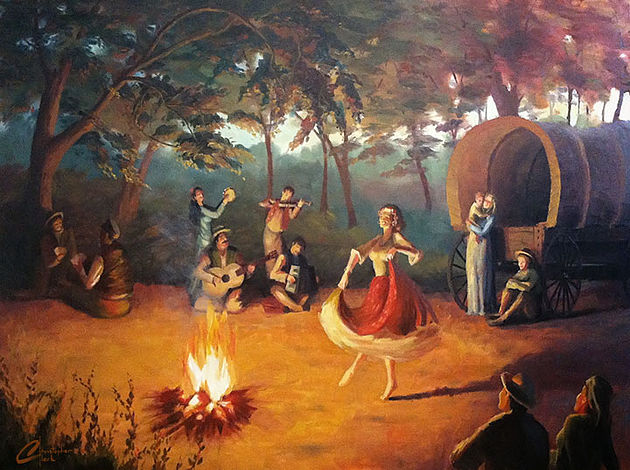 'Long ago in a far off land, there lived a lady fair-o
                                                                 She fell in love with a gypsy vagabond, oh she loved him true.' 
This song holds a special place in my heart for two reasons. Firstly, it was one of the first tracks to be recorded and, secondly (and most importantly), my little dog made a cameo 'appearance' on it. The Gypsy was actually first recorded roughly in April/May of 2013. One day in the studio, Neil was recording some guitar for the middle section, the 'dance around the camp fire' and my little Jack Russell, who was chilling out under the mixing desk, suddenly started to bark. His bark was recorded along with the guitar. So, as is usual when there's a mistake or glitch etc., Neil just hit record again. However, the original recording was still on the PC. The little fella passed away that same June (aged 15yrs). Those of you who follow me on Facebook etc. will know that I was pretty sad, as were we all. He was a smashing little dog, my little soul-mate and I miss him dearly. So as a little tribute, we re-instated the original recording and now he is forever on the album. If you listen very closely you can hear him barking in the middle section. It makes me happy & sad at the same time whenever I listen to it. 
Click below to listen to The Gypsy 
Gypsies, romance & inspiration 
 I have always loved gypsy folklore. As a child I loved the Raggle Raggle Gypsy song and the Spanish Gypsy Dance song. Amongst some of my favourite films were Sky West and Crooked and The Virgin and the Gypsy. I also loved Madonna of the Seven Moons, The Barefoot Contessa and Gone to Earth. These films and songs weaved their way into my subconscious, forever imbuing me with a love of all things Romany gypsy and romantic! I was fascinated with the folk tales of high born ladies running off with handsome, rugged gypsies and equally high born men falling for free-spirited wild and beautiful gypsy girls. Of course, one of my my all-time favourite films (and books!) is Wuthering Heights. Obviously, I'm not alone in my love of this Brönte classic, as many artists, most notably, the amazing Ms Kate Bush, have been influenced and transported by the tragic tale of love and death, of swarthy, moody Heathcliff and the beautiful Cathy! 
 The music 
For our first album Siren's Song, Neil had written a lovely little melody that developed into The Romany. To listen to The Romany click here 
On this album, The Promise, something similar happened, as Neil already had the 'chorus' riff which was originally intended to be something completely different. It wasn't meant to be a vocal at all, but I forget now what we were doing with it! But anyway, I went away with the melody and started adding more bits to it, then lyrics came for the main 'Where do you go my gypsy lover' and the rest of the story just developed from there. Once we had the refrain 'Come and dance with me', the verse melody progressed quite quickly and Neil used a simple but beautiful guitar accompaniment to enhance and support the narrative. Talking of the narrative, the next task was to write the lyrics for the verses which effectively tell the story. The most challenging part of writing lyrics for a narrative song is fitting all the content into three or at the most four verses. In traditional folk songs written in a strophic style, (that is verse after verse after verse!) one can pretty much tell a detailed story by adding as many verses as necessary to get the tale finished. However, obviously, I did not have the luxury of doing that. I don't want to bore my listeners to death! So, once I'd decided on the 'action' so to speak, I had to work out how to tell the story in a concise and rhyming fashion. This is both highly frustrating and enjoyable at the same time. I love writing this kind of song, it is always a completely different experience to writing a song 'from the heart' as it were. Songs written from personal experience and general life events etc. tend to be much more organic in their evolution. They come from somewhere inside and often you really just follow where they take you. Writing a story-based song from an outside perspective is a very different, but equally challenging task. I love to do both! The most complex songs to write, however, are the ones that appear on the surface to be about something else entirely, but actually hold a much deeper meaning altogether! Then it's up to the listener to decide for themselves if they spy another meaning within the lyrics? Ooh..cryptic! 
References 
Song library 
Spanish Gypsy Dance  From: Folk Songs of Many Lands, 1911 
The Raggle Taggle Gypsy (Traditional) 
The Romany Caitlin Grey/Neil Harvey from the album Siren's Song 
Filmography/Bibliography 
The Virgin and the Gypsy Novella by D.H.Lawrence 
Madonna of the Seven Moons Gainsborough Films 1944/45 
The Barefoot Contessa starring Ava Gardner Dir. Joseph L. Mankiewizc 1954 
Gone to Earth starring Jennifer Jones 1950 Dirs. Powell & Pressburger 
Wuthering Heights by Emily Brönte 
Sky West and Crooked 1965 Director John Mills (released in the US as Gypsy Girl) 
Tags: 
#lyrics 
#songwriting #songs #Celtic #gypsies #Romany #gypsy